ICO Services believes that the Virtual Private Network service is a simple and very effective method to add a reasonable amount of privacy and security to your Internet usage.
Get a safe and encrypted connection between your computer and the Internet.Prevents local ISP from spying on you and speed capping online traffic.
What is Virtual Private Network ?
VPN technology is based on the idea of tunneling that involves establishing and maintaining logical network connection.
With this connection, packets constructed in a specific VPN protocol format are encapsulated within some other base or carrier protocol, then transmitted between a VPN client and server, and finally de-encapsulated on the receiving side.
How it works ?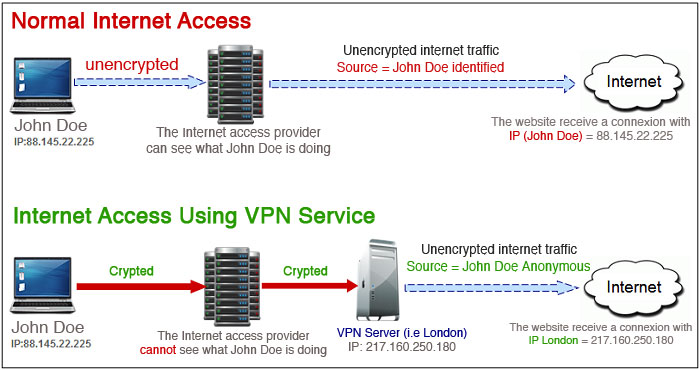 When you are using a VPN service, you are guaranteed to enjoy Web Anonymity. This service that include Complete Online Anonymity (VPN) and Anonymous Web Surfing rout all the traffic through secure servers, located in 22 Countries around the world!
Anonymous Internet - VPN Advantages :
Sensitive about sharing your personal sensitive over the internet (through cookies and IP Addresses)
Using Internet Banking through home or public hotspots
Sending sensitive information through Instant Messaging services like Skype, MSN, GTalk, ICQ, etc...
Sending sensitive information through emails
Shopping online, using Credit Cards online
Based upon our review and research we recommend the company PureVPN if you want quality services offered in a wide range. This company provides a great service, best security in high value, unlimited data transfer, 24/7 Technical customer support and the best rates at a very reasonable price.