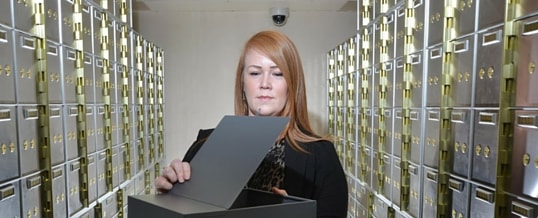 Some media want you to believe that onshore banks are heroes, and offshore banks are the villains. However, the truth is, this adage holds true when it comes to asset protection, internationalization and the pursuit transparency: "When you point one finger, there are three fingers pointing back at you."
We have mentioned in one of our previous posts that the United States may be the best emerging jurisdiction for offshore banking. The fact that they don't reciprocate – requiring other jurisdictions to share data while not doing so in return – has made the whole issue of "offshore banking is bad" an obscure one.
People – individuals and business owners – are being misled; being told that offshore banks are fragile, insolvent and lack of customer service. While those are true to the core for some banks in some jurisdictions, there are other offshore banks that are safer and more trusted than their onshore counterparts.
The recently published report by Global Finance confirms the statement.
Offshore banks: The world's safest?
The 24th annual ranking of the World's 50 Safest Banks shows some interesting facts that are safe to be considered as myth-busters. Among all myths to bust, perhaps the first and foremost myth, "offshore banking is not safe", is the one that's easily debunked by the report release.
The list shows some banks in popular offshore jurisdictions that are among the world's safest – here are some of them:
- Zurcher Kantonalbank (Switzerland) - #2
- Banque et Caisse d'Epargne de l'Etat (Luxembourg) - #9
- DBS Bank (Singapore) - #11
- Overseas-Chinese Banking Corp (Singapore) - #12
- United Overseas Bank (Singapore) - #13
- Banque Cantonale Vaudoise (Switzerland) - #15
- Banque Pictet & Cie (Switzerland) - #24
- Hang Seng Bank (Hong Kong) - #28
- Qatar National Bank (Qatar) - #44
- LGT Bank (Liechtenstein) - #49
To highlight, Switzerland's Banque Cantonale Vaudoise is the greatest gain in ranking compared to 2014's list. Another highlight features Banque Pictet & Cie (Switzerland) and LGT Bank (Liechtenstein) as two of the newest in the Top 50 list.
Interestingly – but not surprisingly – there are only three US banks in the Top 50 list, with the highest ranked is AgriBank (#30), followed by CoBank (#45) and AgFirst (#50). Compare that with Singapore's DBS Bank, OCBC and UOB – ranked 11, 12 and 13 respectively.
How do the banks are ranked?
Andrew Cunningham, the Project Coordinator and Writer for World's Safest Banks Rankings, explains that the rankings are influenced by the long-term foreign currency ratings by FitchRatings, Moody's and S&P.
In determining the who's who, Cunningham explains that there are two criteria: 1) The bank must be rated by two out of three credit rating agencies; 2) The bank must be among the largest (asset-wise) 500 banks in the world. The rankings are then determined by a point system, which rewards more points for better credit rating.
Not only the world's Top 50, but the report also features the top banks in every country listed (100 countries are listed in the list), as well as other rankings. Click here to learn more.
Conclusion
What do the rankings signify?
Firstly, the banks that make the list are typically those that are managed well, large-sized assets, and located in jurisdictions with high sovereign rating (a strong government contributes to the ranking of a bank). Those means that the jurisdictions and banks are ideal as destinations for clients' asset protection endeavors.
Secondly, despite the initiative to crack down offshore bank accounts is intensifying, popular offshore jurisdictions like Switzerland, remain strong. Privacy may be dead – but reputation and service quality prevail.
Whether you (or the media) like it or not, offshore banks are here to stay. They may offer what your home country may not – i.e. Stable politics, pro-investor policies, well-etc.
So, what can offshore banks offer you? Learn more by reading our blog or simply consult with us.