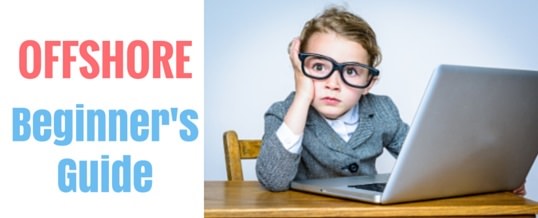 Thanks to the internet, it is now possible to setup a company on any offshore jurisdictions you want in 15 minutes flat. The process itself is not complex, especially when you use services like the ones we provide.
However, despite the simplicity, never underestimate the importance of knowing why you may want to set up an offshore company, instead of the typical onshore company.
Getting started
With the help of international business services like us, getting started is easy: Just complete all the requirements, finalize the payment, and that would be all. However, we are against setting up an offshore company for the wrong reasons – e.g. Money laundering and tax evasion. Therefore, it's crucial for you to find the right (read: legal) reasons to start one.
For some basics, read these articles to learn more about the right reasons to start an offshore company:
Once you have learned and decided that offshore company formation is for you, let's carry on with the essentials – and the main topic of this blog post: Learn how to set up a fully operational offshore company.
Step #1: Choose your jurisdiction
Once you know the underlying reasons why you want to set up an offshore company, you are ready for the first step: Choosing your jurisdiction – and the best legal entities for that particular jurisdiction.
Just like setting up an onshore company, you need to establish your HQ in jurisdiction that is most beneficial for your business. For onshore companies, 'jurisdiction' is typically in the region in where they target market exist.
Another reason would be the local ecosystem that will support your startup – e.g. If you are starting a tech company, then Silicon Valley or Seattle might be the best HQ for your business.
For offshore companies, the decision to choose the right jurisdictions heavily depending on the focus of your company: Is privacy/secrecy your priority? Is beneficial tax arrangement your priority? Is investing your priority? Is reputation/prestige your priority? Is your company going to be a sole proprietor or a full-fledged company with many employees?
Your answer(s) will determine the best jurisdiction for your company.
The process of company registration can be completed in a week or so, depending on the jurisdiction you choose.
Step #2: Setting up a bank account
In certain offshore jurisdiction, you can set up a company, as well as open a bank account. If the option is made available to you, we recommend you to also open an offshore bank account, for one major reason: Flexibility.
An offshore bank account can give your company access to online banking service, which means accessing your fund from almost any parts of the world. You can also access some of the world's best, full-fledged banking and asset management services, which allow you to invest your fund on wide array of investment vehicles, such as precious metal investing, stock trading, and even buying a real estate.
The process of opening an offshore bank account can take about several weeks.
Step #3: Nominee services
Some offshore jurisdictions requires for the company's directors and/or shareholders to be listed on public records. If privacy is what you are after, you should find a way to conceal your names. One of the ways to do so is by using nominee services.
In essence, nominee services will provide nominees who will assume your role as the company directors, and will sign documents on your behalf. Your name will stay private.
Learn more about nominee services.
Step #4: Business address
For one reason or another, you may want to use a different business address than the 'official' address of your offshore company – i.e. Your offshore company is headquartered in Belize, but you want a more prestigious business address at London, UK.
If that's the case for you, then business address is for you. When you use a business address, mails, packages and parcels sent to your 'virtual' address will be forwarded to your designated address.
Step #5: Miscellaneous
Other services you may want to consider is corporate identity design and VPN service.
Corporate identity design includes logo design, business cards, and letterheads.
VPN service deal with securing your Internet access in such a way that accessing your offshore bank account can be done in the most secure manner.
Takeaway
One major perk that should be mentioned in this post is the fact that the end-to-end service of setting up an offshore company can be accessed online.
Setting up the company and/or bank account, there is no need for you to personally visit the jurisdiction – even though you can do so if you want to. Additional services, such as nominee services, business address and corporate identity design, can also be accessed online.
If you think that, after reading this post, setting up an offshore company is not that complex, you are correct. What you need to do is to prepare the required documents and choose your jurisdiction, as well as the additional services carefully.
If you need help in getting started, please contact us for a free consultation.